eduroam City-Haining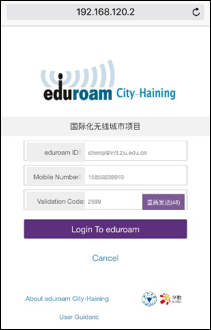 With the strong support of CERNET (Chinese Education and Research Network),'eduroam City-Haining'(International Wireless City Project)is co-constructed by Zhejiang University International Campus and Haining Waso Media network Co. Ltd. To better service the purpose that providing eduroam members a convenient and free way to connect network in Haining and creating a network environment for mobile learning, 'eduroam City-Haining' extends eduroam coverage to Haining main public places.
' eduroam City-Haining' in accordance with the eduroam's concept of no charge, freedom and openness, observed The Cybersecurity Law of the People's Republic of China and relevant regulations. It used second time portal login mechanism let users use phone numbers to achieve real name login mechanism.
Zhejiang University Main Campus and International Campus have already joined eduroam, providing network environment for international cooperation and academic communications. Through 'eduroam City-Haining', Haining become the first city equipped eduroam in public areas in mainland china.
eduroam Coverage Locations
Haining West Station, Haining Station, Haining Transport Center, Haining Administration Service Center, Exit-Entry Administration, Haining Gymnasium, Yanguan Scenic Spot, Xishan Park, Dongshan Park, Haining China Leather City, Gongren Road(Hualian Building), Ziyang Road Pedestrain Street, etc.
eduroam connection guidance